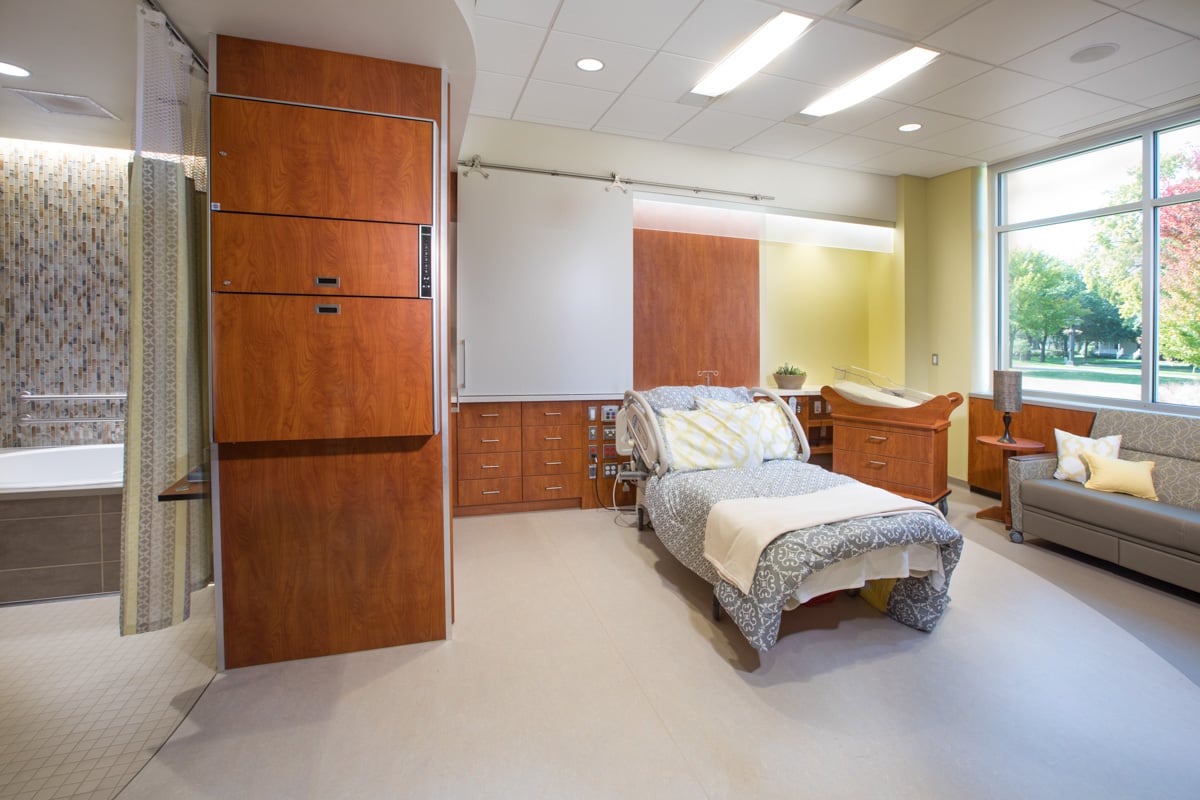 Today's patient room is not like it used to be. Technology has changed every aspect of our lives – but there are few places this is more evident than in the patient room. In 1950, the typical length of stay for a mother delivering a child was 8 to 14 days. If she beat the odds with a 5-day stay – her entire bill would likely be under $100. Today, the stays are much shorter – 1 to 2 days for natural birth. However, today's typical palliative care patient is much sicker and the costs of care are much higher. The stakes are high to get things right in healthcare planning and design:

• The health of the patient • Investments in facilities and staff • Increases in competition • Reimbursement structures that pay for results, not services

The patient room is the focal point where all of these factors come together. [caption id="attachment_2260" align="alignleft" width="1200"]
Here is an example of a recent patient room design from Spencer Hospital in Spencer, Iowa. Note the exterior view, natural daylight and family space accommodations.[/caption]
A Healing Environment
The number one focus in the patient room must always be the patient's well-being. Creating a patient and family-centered environment is a key factor in a successful design. With inpatient conditions being much more acute, integration of family space is a critical design factor. The family's presence can be a critical part of both the patient's well-being and the room's design. Having a place for them to sit – ideally one that converts to a bed – is a good start. They also need a place to store their things and to set gifts for the patient. Control of their own lighting and entertainment is also necessary.
Providing Positive Distractions
From the patient's perspective, the evidence is clear – they do better in rooms with views and natural light. Rooms should be more like a fine hotel than an antiseptic institution. In a patient-centered design, the patient has personal control of his or her environment, supporting patient dignity and privacy. It's well-documented that daylighting has a significantly positive impact on patient and staff wellness. Daylight is a critical aspect to providing an environment of wellness for patients, visitors and staff – reducing stress and providing an overall feeling of comfort and wellness.
Quality, Safety & Efficiency
Many design elements supporting a patient-centered and positive work environment also pertain to safety and security of the hospital's users. When patients and staff feel safe, they are less stressed, which is conducive to improved health outcomes and prevention of incidents. Infection control is critical, so surfaces and materials within the room need to be well chosen. Hand washing sinks are required at the room entrance. A safe patient room also includes elements that aide in reducing falls:

• Adequate night lighting • Non-slip flooring materials • Bed alarm systems • Grab bar systems • Adequate space for staff to maneuver • Nurse call devices at the bedside and in the patient washroom

[caption id="attachment_2261" align="alignleft" width="1200"]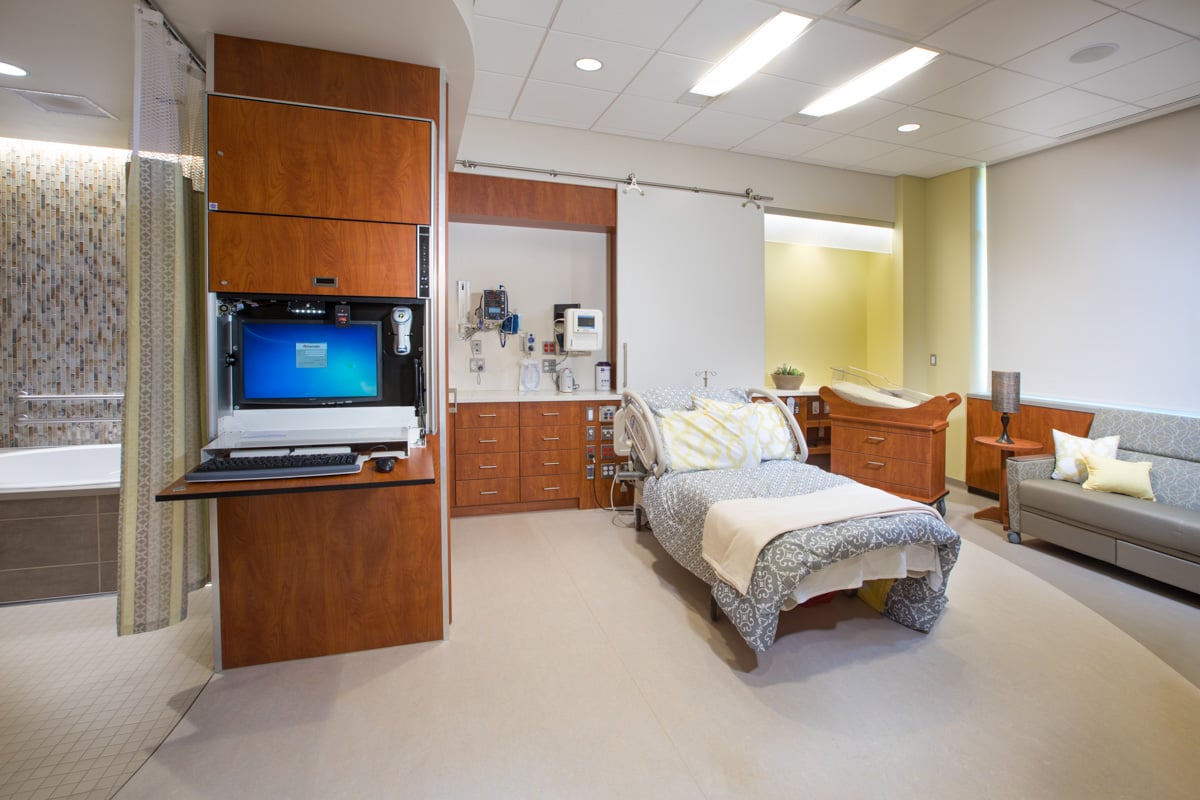 This is the same patient room, as above, but notice the ability to control the lighting with window shades. Also note areas that were concealed in the image above, like the supply area near the patient bed and the charting area. [/caption] Designs should minimize disruptions to patient sleeping and include features like pass-thru supply closets accessed from the hallway. For the same reason, avoid designs that include multi-bed patient rooms. Beyond efficiency, other key staff influences on a good patient room design include a patient lift in every room, supply area (i.e. for meds) near their bed and a good charting area.
Bringing It All Together
About that title? The "Art & Science" of Patient Room Design. We believe both are critical. Evidence is clear that a warm, comfortable, controllable environment with views, natural light, artwork and entertainment will enhance the patient and family experience (and more importantly patient healing). That's the "Art" part. Also critical is the efficiency of the staff, infection control, and the changing face of medicine and technology. That's the "Science." Architecture is both Art and Science, and CMBA recognizes both as critically important in planning healthcare environments.