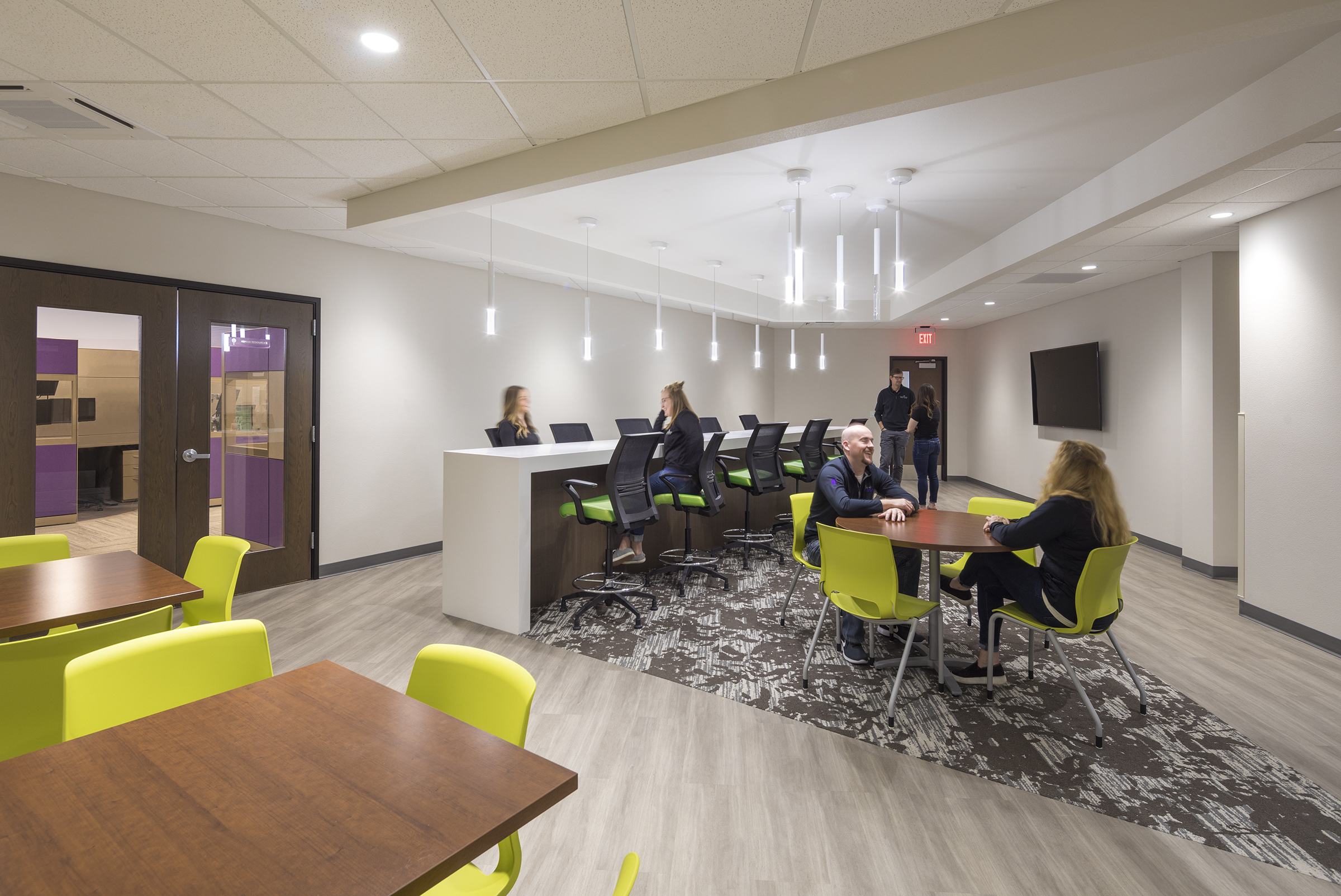 One of our primary responsibilities as architects is understanding people's needs. When it comes to office design, that means the health, sustainability, and profitability of a building's design. We know there might be new best practices that emerge as we continue through this COVID-19 pandemic, but we'd like to cover some key strategies that we believe will still be important when thinking about your space – we might just solve for them differently in a post-pandemic environment.
Putting Employees First
Things have changed in the past couple decades. Nowadays, employees are looking for something more than just a job behind a desk. They want to work in dynamic, inspiring spaces that add value to their knowledge and promote their mental and physical well-being. Investing in your employees is one of the best investments you can make. And understanding employee needs is the first step.
Creating Healthy Workplaces
Our health is greatly affected by our environment. And believe it or not, our physical and social environment have a bigger impact on our well-being than genetics, lifestyle or even the health care system. People-oriented workplaces motivate their employees to do their best, and it increases recruiting potential. This makes the quality of your spaces, from a health perspective, very important on multiple levels.
Increasing Flexibility
Want to know one of the best ways to cut down material and embodied carbon? Design a building that's flexible. That means you want the spaces to be easily adapted to different circumstances and future tenants. By designing flexible floor divisions with strategically positioned cores, adequately sized support spaces, and independently accessible tenant areas, you will preserve more of your capital as well as construction time if you ever decide to turn over these spaces.
Adapting Garages
A modern, intelligently designed garage is a fantastic benefit for employees as well as the environment. Sharing parking spots, providing bike and scooter storage, and creating privileged places for car sharing are great strategies that benefit both the design of a building and help the environment. There is a large emphasis being placed on exploring the reality of driverless cars. What this means is that as a whole, cities will eventually need less space for parking and new construction of parking garages must consider their designs in light of the future. Considering how they might someday be outfitted with mechanical and electrical systems.
Increasing Employee Retention With Design
From a very reductionist standpoint, to increase employee retention, all you need to do is improve their level of satisfaction on the job. To this end, one of the most effective design strategies in a workplace is to encourage them to move throughout their regular working activity, sometimes without them even noticing it. By locating internal stairs in a highly visible location and enhancing them with user experience elements such as artwork, lighting effects, and vegetation, employees are more likely to use them to move from floor to floor. Another strategy is to add centralized copy rooms, garbage collection points and drinking fountains that cause workers to stand up, interrupt their sitting activities and encourage them to move around the office.
Investing In Communal Spaces
Putting some effort into well-designed communal spaces is an important step towards improving the health of your employees–as well as the efficiency and profitability of your business. These types of spaces give your employees the option to take time out of a busy day to relax, interact with co-workers, increase their general well-being, and experience better efficiency as a result. Needless to say, investing in great communal spaces will pay dividends for years to come. These ideas only scratch the surface of what's possible. If you're interested in your workplace being more sustainable, healthy, and profitable, we can help! Just give us a call. We'd love to discuss your project with you.