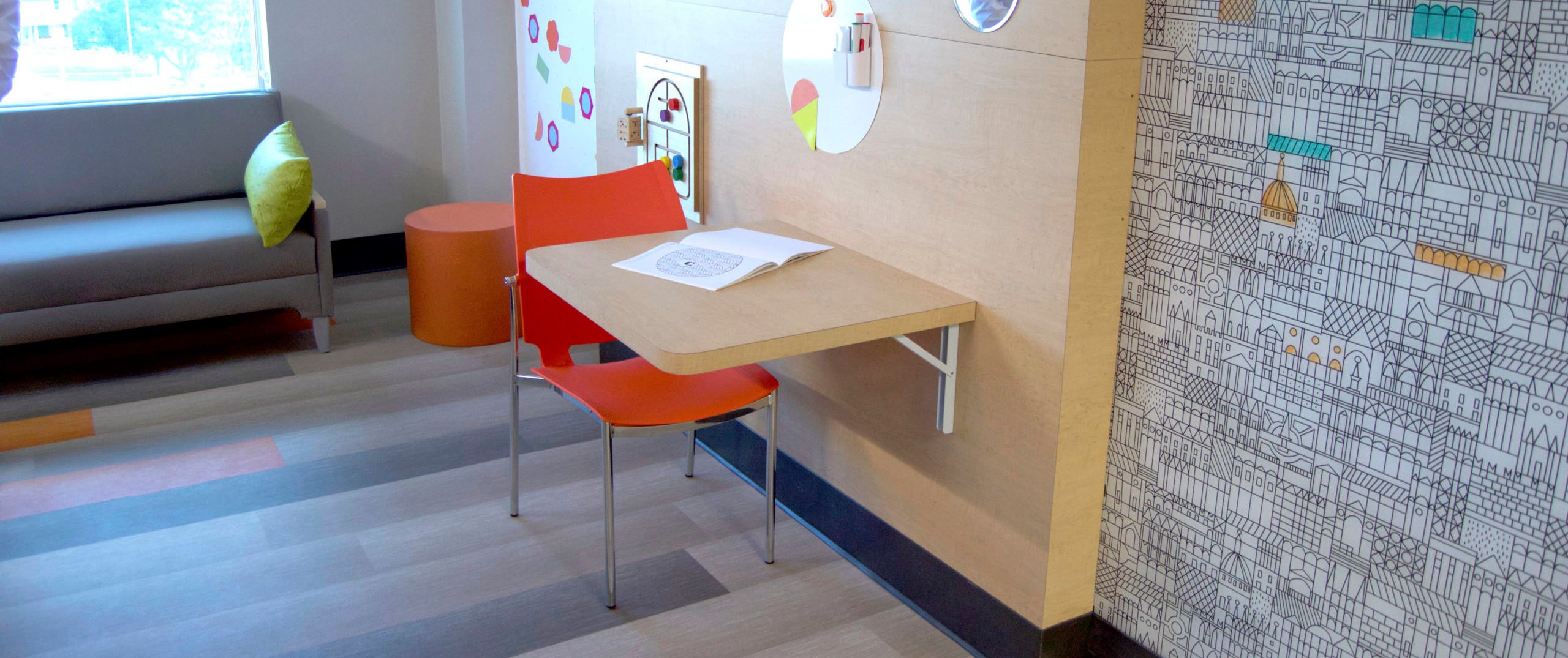 A hospital stay can be a traumatic experience for children, from the unusual noises and invasive tests to the time spent away from friends. While there are some things that can't change quickly, we think that pediatric spaces have an opportunity to better support these children by minimizing these traumas and making the experience a positive and empowering one!
Clearing up some misconceptions
Pediatric care extends beyond babies and toddler. Patients in pediatric care range in age from one day to 18 years old. The "patient" is also more than just the child. In pediatric care facilities, the patient is also the family who is caring for the child, and treating the child also means tending to the entire family. Compared to adults, pediatric patients have a wide range of unique needs and require more specialized attention. Because pediatric patients are in a range of developmental phases, they require a care team that is attuned to their specific needs. This includes neonatology care, pediatric cardiology, pediatric oncology, surgery, and hospice care.
understanding young patients
As patients, children experience several psychological effects caused by the trauma of a major illness including disassociation, reconciling the effects of illness intervention from specialists, and withdrawal. There are also significant impacts to the family unit. The patient's family is essential in providing care to children with health condition. As such, family-centered care is at the center of building a successful pediatric healthcare facility.
setting worthy goals for pediatric design
We think designers have been presented with a unique opportunity to act as an advocate for children, helping to support their needs and the needs of their family through the built environment. We see opportunities existing in holistic care and personalization, taking an inter-disciplinary approach to illness in collaboration with the family, and supporting a child's emotional needs by incorporating fun and playful activities. Typically, pediatric designers have focused on themed design such as theme-park replicas and bright bursts of color. These designs can be stimulating and even distracting for some – they do very little to calm patients and do not keep them grounded to the local environment for a sense of place. While fun, pediatric environments can do more than create a fantasy land replica of a Disney movie.
powerful distractions
Designers are actively focused on developing more abstract environments that incorporate art that connects with technology for children to interact with. The immersion of technology and art provides an opportunity to create a narrative for engagement at any development level. Beyond these pediatric-centered design strategies currently being implemented, designers and planners are looking to the future. As we learn more about how children respond to their healthcare environment, how they process trauma, and how they navigate their healthcare experience we are implementing modern, and sometimes unorthodox, solutions into pediatric designs to fully support the pediatric patient and their families.