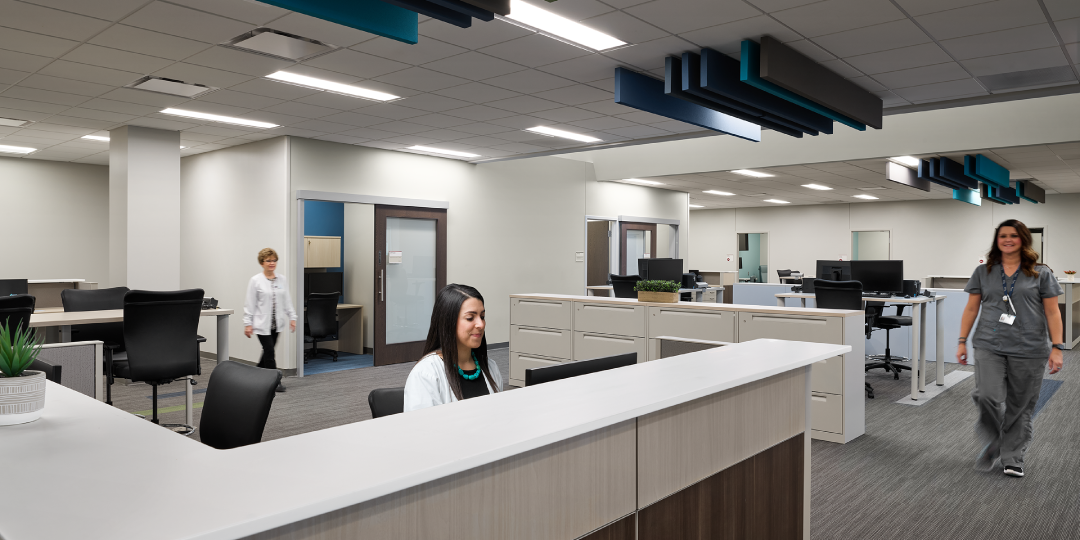 As the healthcare landscape continues to evolve, the CMBA healthcare team sees several emerging trends poised to have wide-ranging impacts on facility design and construction. Following are six of those trends and strategies that have become more commonplace in 2022.
The Carbon Footprint
It is estimated that the healthcare industry contributes to more than five percent of global greenhouse gas emissions. For this reason, we are seeing more healthcare operators looking closer at both their operational and carbon footprint.
Carbon reduction will no longer be a nice-to-have or a function that is put off only to be engineered later. Rather, carbon footprint considerations are now becoming a foundational element of a healthcare design strategy.
Leveraging the Benefits of Post-Occupancy Evaluation
A post-occupancy evaluation in architecture analyzes how functional and comfortable a building is after users have occupied it for some time. More healthcare operators are requesting that design teams perform a post-occupancy evaluation as part of their contract, and we anticipate this being a trend in healthcare in the future.
It is not uncommon for the healthcare design and construction process to take years, while the owner, architect and contractor work closely together to define project goals, plans, design and construct the facility. However, once the project is completed and the keys are turned over, follow-up is usually limited.
The previously close team – owner, architect and contractor – then move on to their next project without gaining any feedback from the occupants or finding out if the building has indeed met the goals of the organization. This is a lost opportunity for the team to gain insight by comparing their planning assumptions with actual building operations. The insights gained during a well-conducted post-occupancy evaluation process can be used to fine-tune operations, identify and solve problems and gather data to improve future projects.
Designing for Resiliency
Resiliency in healthcare design is a major trend. Clients are looking for ways to enable their facilities to adapt and pivot in response to an unexpected influx in patient volume – whether due to a natural disaster, pandemic or other potential causes. Our team is finding intentional design solutions that respond to several vulnerabilities practically and cost-effectively.
The Rise of the Smart Room
We're expecting to see the smart room trend continue as the direction of progress remains pointed toward the patient and caregiver experience. Whether it's an inpatient room or outpatient setting, technology can greatly enhance the experience for everyone.
Patient and even family-controlled devices – phones, tablets, etc. – can offer an enriched experience for everyone. In turn, this will ideally affect the cognitive overload of staff by giving them digital means for real-time interaction with patients and families.
Interested in learning more about our thoughts and approaches to healthcare architecture and design? Click here!