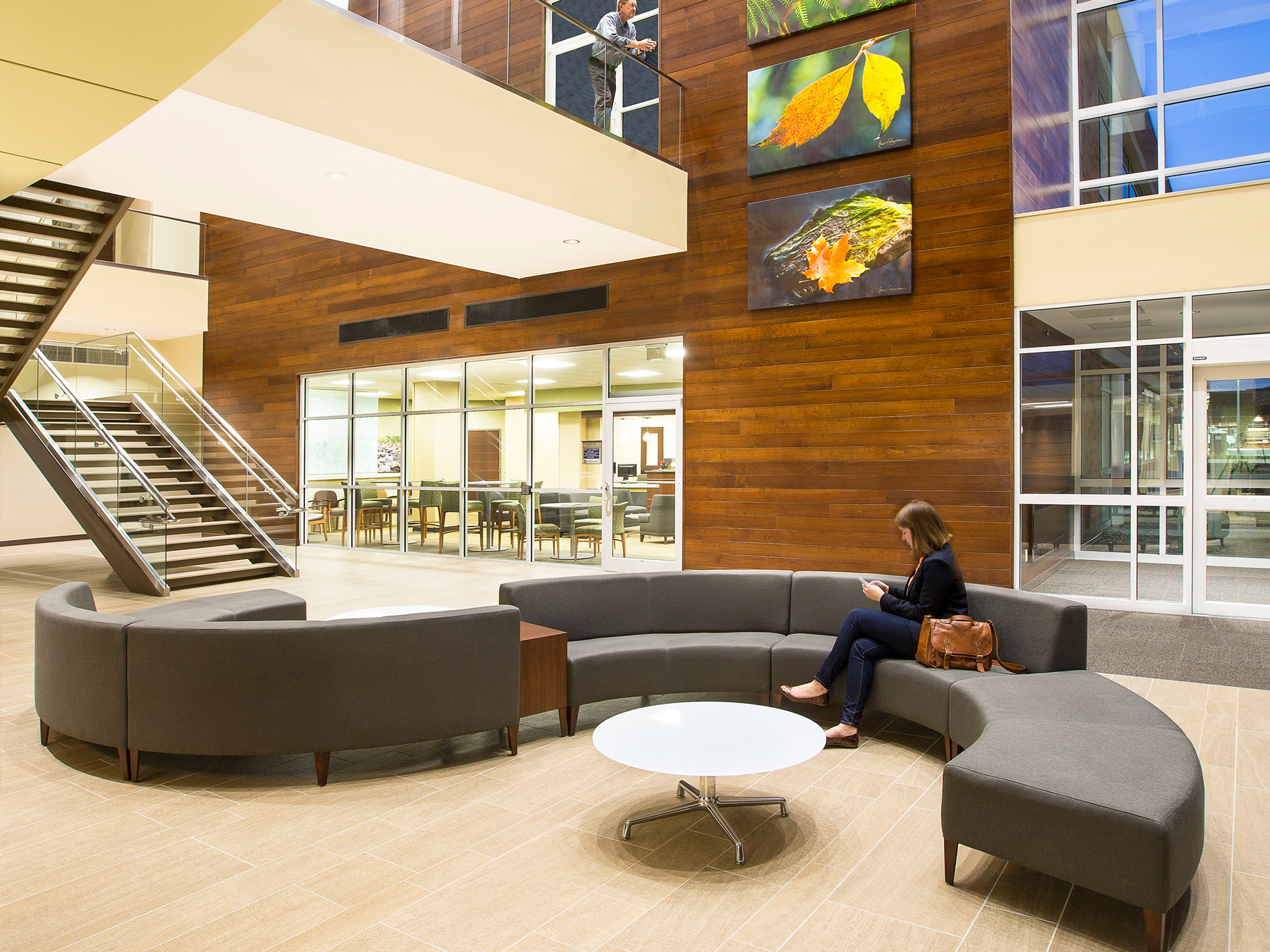 Noisy, featureless waiting rooms are quickly becoming a thing of the past. As healthcare organizations continually work to improve their patient experience, these spaces are now evolving into destinations for education, engagement, and solace. And that's fine by us! This evolution is primarily driven by a competitive market that offers more choice to patients in where they receive care. This is influencing healthcare systems to view people not only as patients, but also as customers. Which is why many healthcare organizations now seek to create memorable experiences that set them apart. And this begins the moment a visitor steps through the front door.
A Hospitality-Styled Experience
Lobbies can no longer simply funnel people from a parking garage into the interior of a building. Instead, hospital leaders are beginning to see the benefits that a hospitality-styled experience can have on patients – reducing stress and creating a positive first impression.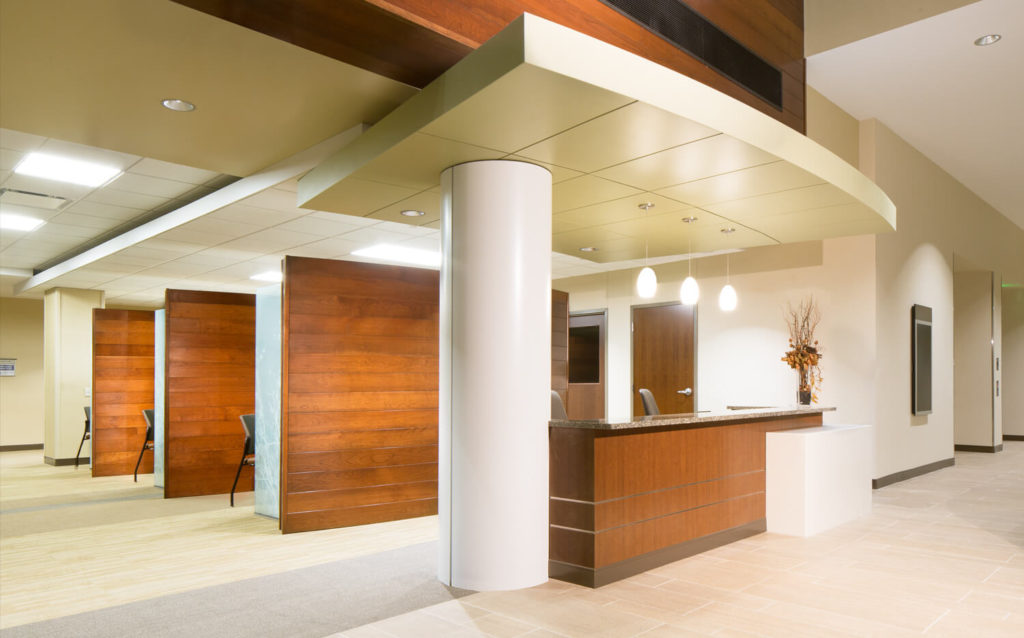 We believe that services and amenities located in entry or lobby spaces should mirror those commonly found in hotels. These include a concierge or staff member to meet and greet visitors at the front door, ready to guide patients where they need to be and set the stage for the overall experience. Some other hotel-like features that are finding their way into lobbies include artwork, which can help bring a human touch to the environment, and high-end materials and finishes. The first impression from an aesthetic point of view should be one of quality and care.
Better Waiting Rooms
As visitors move further into the building, interior solutions for waiting rooms today bear little resemblance to the layouts of old. So, say goodbye to rows of connected chairs and wobbly tables, shrub-shrouded windows, and televisions blasting talk shows. And say hello to comfortable couches, educational kiosks, and soaring views that bathe visitors in natural daylight.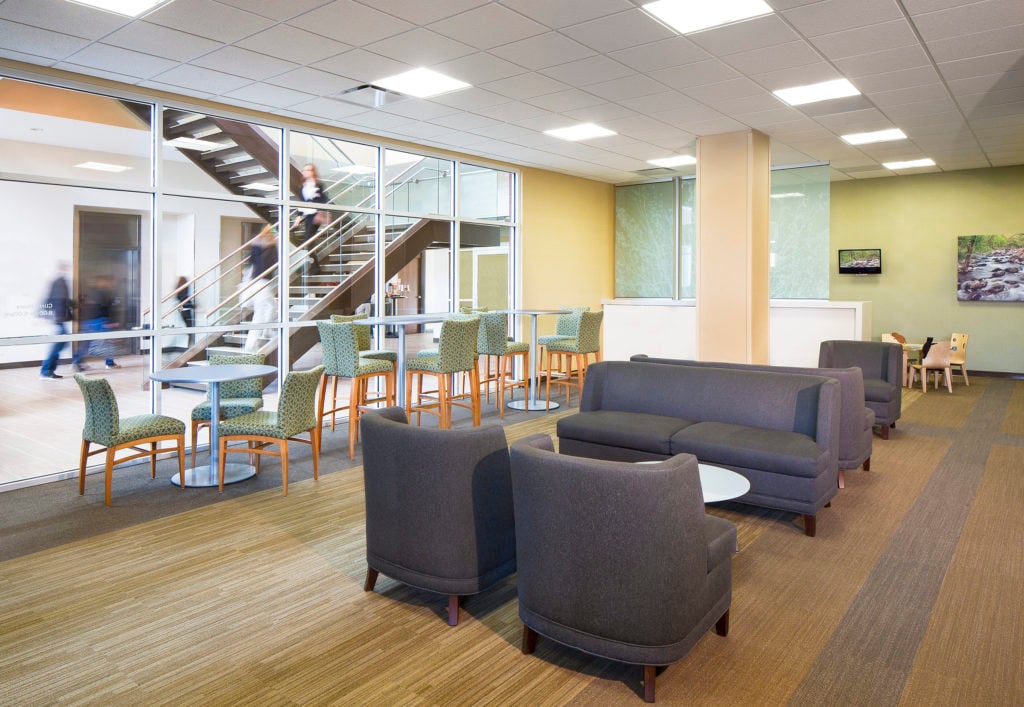 Beyond simply providing comfort, the design of these spaces can also reduce stress by offering patients and visitors choice in how they experience their environment. For example, some visitors will prefer to be completely distracted through their mobile devices or by exploring the hospital's educational material. While others prefer quieter spaces. By paying attention to the different needs of different people, you can design dynamic waiting areas that use a mix of seating and table types within a single area. This gives individuals the ability to make themselves comfortable their way. This changes the rules of the waiting game.
Empower Your Visitors Through Better Design
By repurposing your waiting rooms to better engage, educate, prepare, and relax patients. You can set your organization apart. Empowering your patients and visitors to make the space fit their needs. And as a result, cause people to feel more like they're relaxing in a living room – not a waiting room.