As healthcare continues to make advances and specialized medical centers and clinics continue to grow, there's much that the healthcare industry can learn from the hospitality industry. Here are three areas where we see opportunity.
1. A Warm Welcome
Hotels have spent millions in the last several years updating their lobbies and dining areas. Even economy chains are ensuring their guests are greeted with a warm and welcoming lobby.

The days of cold, tile hospital and clinic lobbies are gone. Design in healthcare has taken a cue from these hotels and ensuring guests arrive to an inviting and warm environment. Visiting a medical facility can be stressful for patients. A warm welcome can do much to relieve that stress and aid in healing.
2. Use of Technology for Convenience & Service
In the airline industry, self-check-in kiosks are ubiquitous. Hotels have recently begun creating their own fun, engaging self-check-in process in their lobby, allowing guests to quickly register and select their own room. Both industries are now moving toward self-check-in on a digital device. Many doctor's offices and medical clinics have self-check-in capabilities in the lobby or waiting area. While its efficient for staff management, it also allows patients to check in—and in some instances pay—faster. As medical facilities continue to integrate smart phone technology with their service, imagine a patient checking into an urgent care on their phone and being notified of the current wait time—and given the appropriate time to leave based on their current location, traffic conditions and distance to the clinic. This kind of innovation would allow for a reconfiguration of space—with less dedicated to large numbers of patients waiting on their appointments and more dedicated to exam rooms or other primary care areas.
3. Anticipate and Meet Patient Needs
Anyone who has traveled much has run into that situation where you forgot something—deodorant, a razor, toothpaste—something beyond the usual toiletries hotels provide in the room. Hotels eventually started stocking these items at the front desk and offering them at a modest cost, or in some instances free, to guests. Some chains also have the capability for guests to stream content from their own devices to the in-room television. Both are great examples of anticipating guests' wants and needs—and staying ahead of them. In the medical industry, innovative medical facilities continually research the needs of patients and guests, and work to stay ahead of them.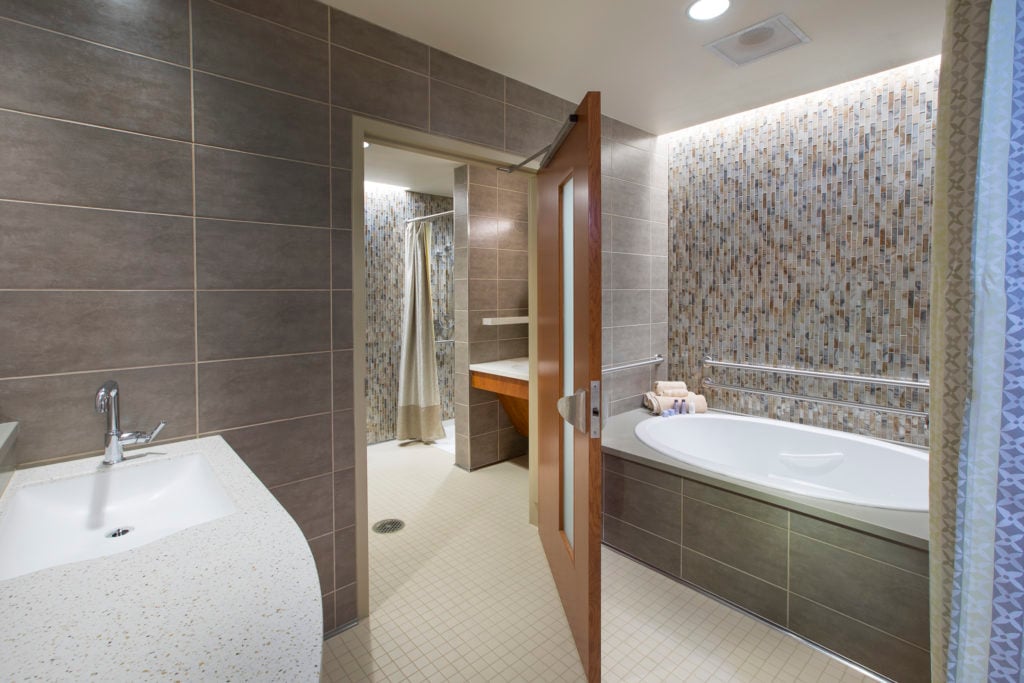 Whether it's a comfortable birthing room, a pull-out couch for a spouse to remain in room overnight, or other in-room amenities, we work with clients all the time to determine how patients and their visitors are using the facilities—and where the facilities fall short—and ensure any renovations or updates get ahead of the needs of patients, visitors and staff. What cues can your hospital or clinic take from the hospitality industry? We'd love to sit down and imagine the possibilities with you.