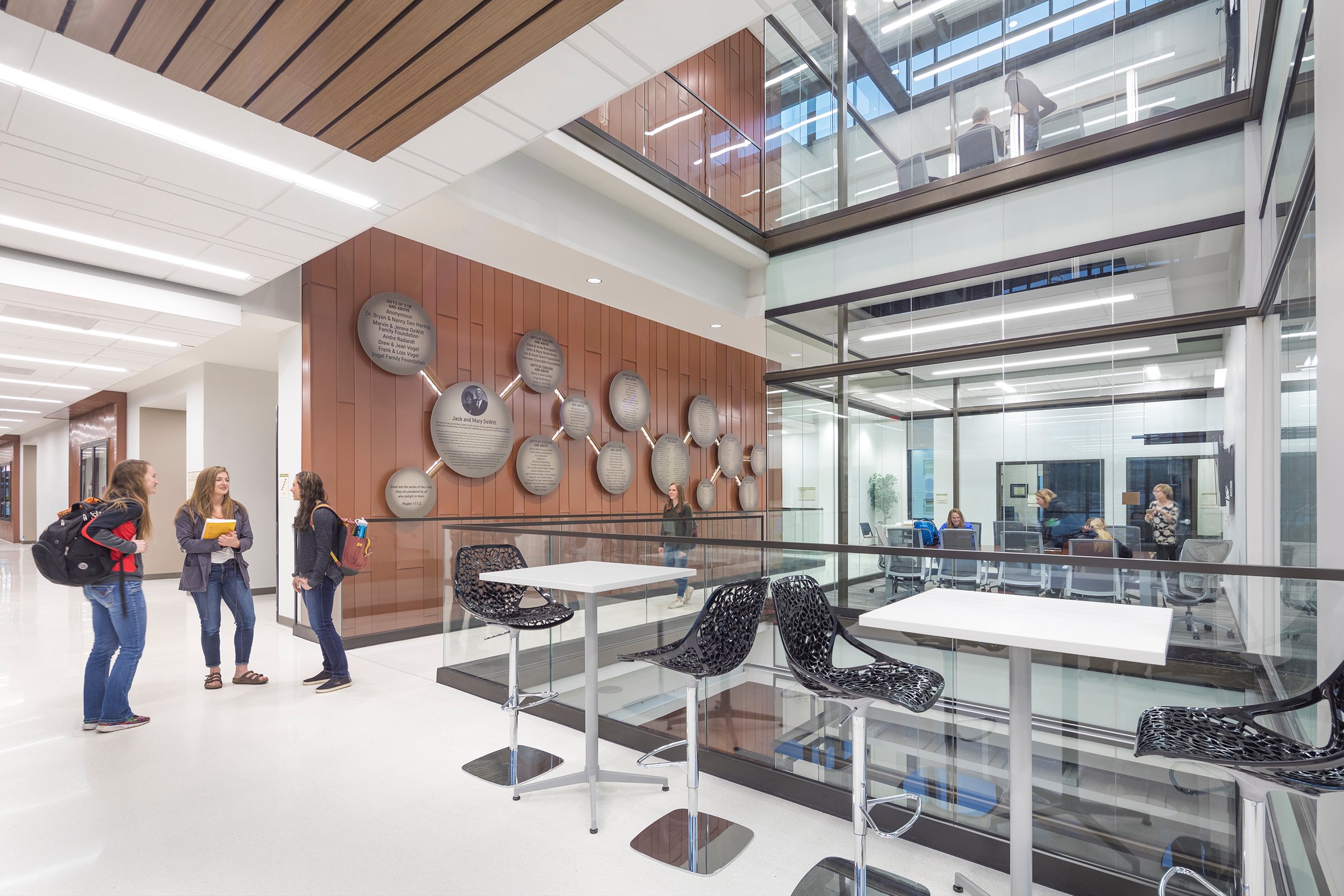 Student anxiety saw an increase of around 20% over the last 10 years. Without a doubt, there are many factors that lead to higher levels of anxiety in students, and it's important to consider all of them when searching for solutions. The design of the higher education built environment can be a powerful tool in this process – especially if schools apply research into environmental psychology and occupant well-being.
Understanding Some Foundational Needs of Learning
It is vital to offer a sense of safety, security, and belonging when creating spaces that foster optimal learning and engagement. If you are familiar with Maslow's Hierarchy of Needs (or common sense), then you know that anxiety tends to increase without a sense of belonging and security. Maslow's Hierarchy of Needs Pyramid suggests that people have fundamental needs – security, shelter, and a sense of belonging – that all must be met before a person can effectively engage in mentally taxing activities such as a quality education.
The Psychology of Design
How might higher education spaces support students' foundational needs? The fields of environmental psychology and biophilic design provide helpful guides for creating spaces that nurture college students' feelings of belonging, safety, and overall well-being. Higher education environments should prioritize creating engagement, especially within classrooms.
Encouraging Engagement and Well-being
Providing students with a connection to nature in learning settings also drives engagement while reducing stress and anxiety. Interacting directly with nature, such as having spaces that connect safely to outdoor environments, is especially beneficial in today's climate because it gives students more access to elements like fresh air and movement.
It is possible to bring the well-being and learning benefits students experience outdoors into interior spaces through biophilia. Integrating biophilic design in colleges and universities goes far beyond the incorporation of plants. It seeks instead to immerse students in the rich experiences and connection they feel when they are in nature.
When designing an immersive learning experience, it is paramount to engage all senses while also fostering a celebration of the location's natural spirit. Design conversations dedicated to discussing these goals should occur throughout the process, especially in the early stages of the project development. When successfully implemented, the benefits of immersive biophilic design can be achieved through a wide range of design styles, budgets and client goals.
Inspiring Ongoing Growth and Engagement
While there are a wide range of elements to consider when designing safe, durable, and healthy spaces, creating environments that evoke a sense of comfort, health, connection and joy is essential to influencing engagement and overall well-being.