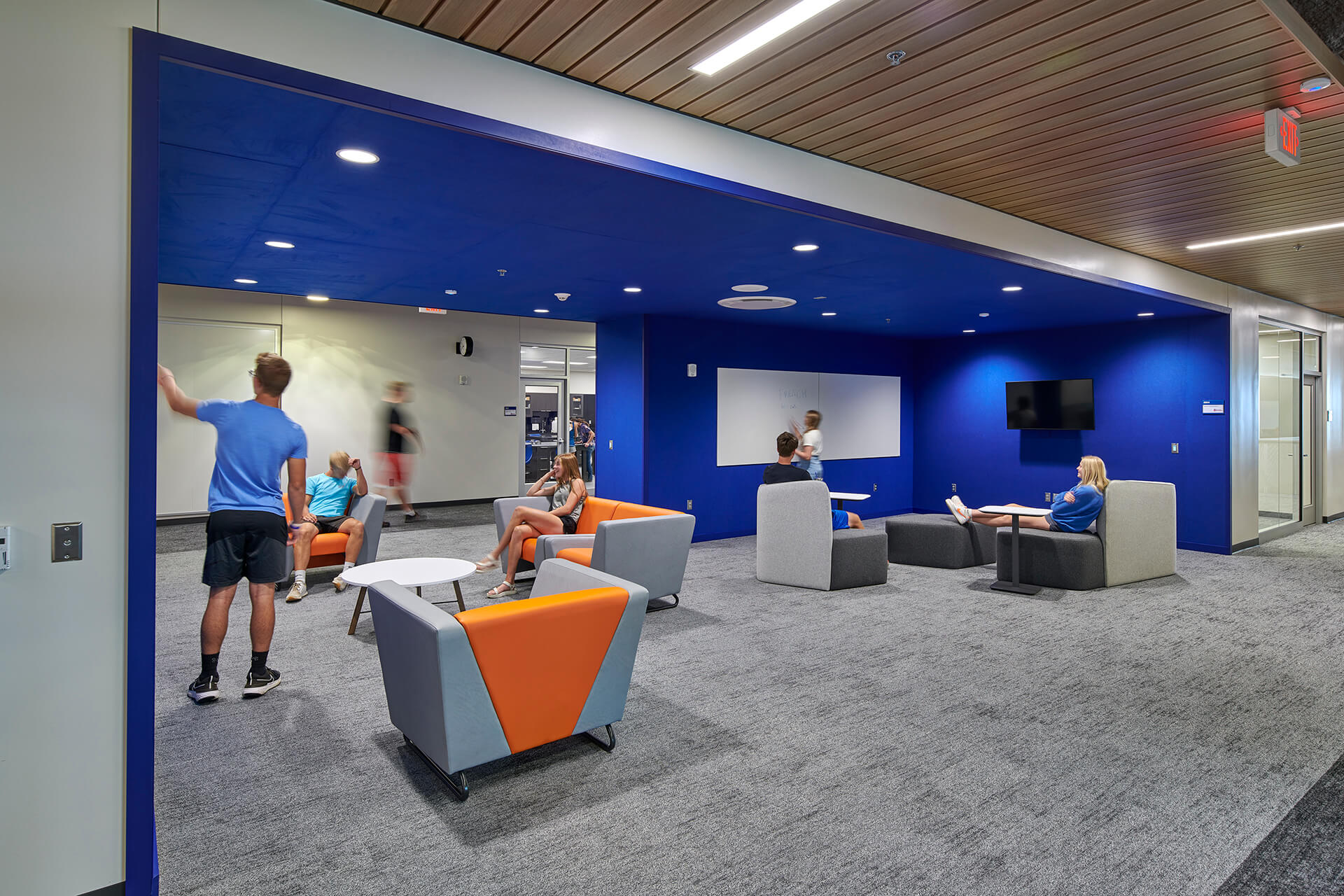 In-person learning has returned, and school design has hit somewhat of a reset button—moving into the future with a clear purpose: making schools safer, healthier and more supportive. Previous years brought about changes that heavily influence the present—how classrooms are being designed and how students are learning.
Increasing material costs, inflation and labor shortages are also driving factors in the current approach. Schools and districts are left looking for ways to save without sacrificing what students and teachers so desperately need.
New designs are tapping into new themes: concern for bodily and psychological wellbeing, a greater connection with nature, improved flexibility and the ability to move about freely, and the implementation of rapidly evolving technology. This year's trends aren't just design-forward, they're paying it forward—in higher efficiency, lower operating costs and value-added features that improve health, comfort and academic outcomes.
Getting Creative With Your Space

Open floor plans are the blank canvas for a multiplicity of learning methodologies. As class sizes fluctuate, classrooms need to adapt on-demand and recalibrate for higher capacity. Features such as interior partitions, mobile furniture and even sliding glass walls can give students the room they need to move around. They can also make it easy for teachers to reconfigure spaces to match the needs of the day.
Centralized Hubs For Education
As programming expands, modular builders are creating shared spaces that can multitask. Central hubs cluster classrooms around a multimodal space that can be used at different times by different groups for different types of learning.
Standard floorplans can be reconfigured for these new kinds of spaces. For example, two oversized classrooms might open to a shared central prep space, creating a fluid lecture/lab environment that accommodates individual learning, group projects and experiments.
Spacious Designs
Schools are retooling design to make spaces live large, adding height with tall, exposed-beam ceilings and widening hallways with bump-outs and alcoves. Regular features are being upsized. For example, a two-story design might include enclosed hallways with 10-foot ceilings, double-door entryways and wide exterior walkways. These design decisions are allowing students to navigate and interact with greater distancing and comfort.
Smarter Technology
We've all heard of Smart Homes, but what about Smart Schools? They are growing in popularity. As schools augment their technological infrastructure, old technology is being replaced by highly intelligent systems and features that create controlled environments for enhanced productivity. They are also making students and teachers feel more protected and secure. These technological trends include:
K12 Automation
This trend is all about automating classrooms to develop the ideal conditions for learning. Occupancy sensors can automatically adjust the thermostat based on the number of people in the room, and auto-dimming lights can respond to natural light. The result? More productivity and lower energy costs.
Touchless Tech
The desire for this sort of technology is huge. We are seeing touchable surfaces being removed in favor of sensor and voice-activated technology. High-frequency touchpoints such as faucets, toilets, light switches and thermostats will become hands-free as schools look to technology to mitigate disease transmission.
New technologies like hover detection will eliminate shared touch interfaces, allowing students and teachers to navigate interactive displays without contact.
Heightened Security Fueled by Real-Time Safety Technology
Safety is a massive concern for school districts everywhere. This concern is giving way to the integration of real-time security management capabilities into building designs. Technologies like electronic door locks, video surveillance and visitor management systems control access and accelerate emergency response, remotely and onsite.
Greater Connectivity
Modern classroom design is moving toward a redefinition of interconnectivity, by creating technologically advanced environments where students can problem-solve and innovate together wherever they are. To support the wide range of technology used by students, architects and designers are configuring schools to future-proof designs for this tech. This is taking the form of increased power access with outdoor Wi-Fi and outlets spaced for individual learning. These design decisions provide a much more robust connection to a school's programs, data and resources.
Did these K12 design trends inspire you to improve your school? We can help you. Discover more about CMBA's approach to these K12 design trends and more!