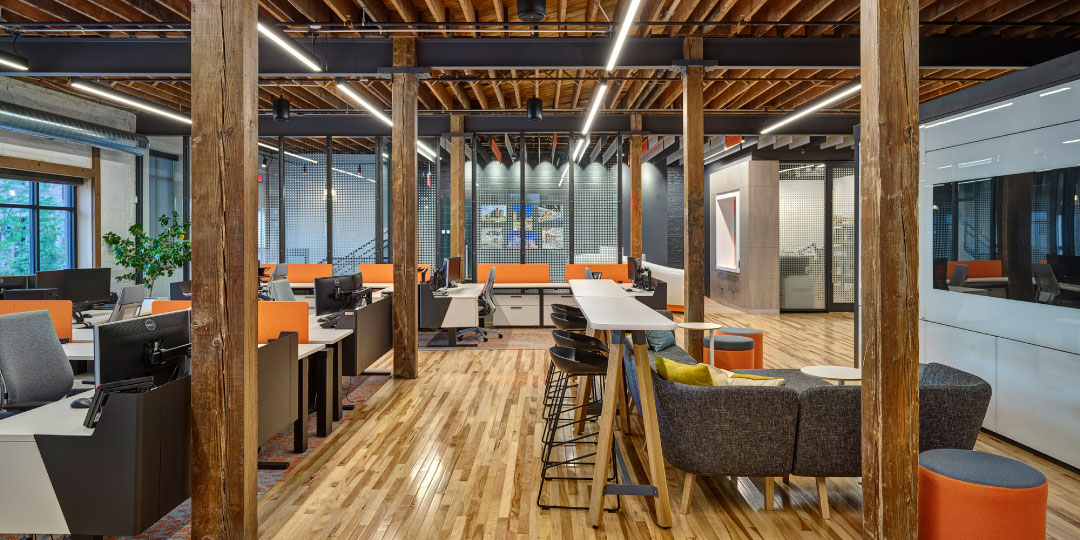 We understand the pivotal role that space plays in the entire experience of working in an office. Nobody wants to spend their days in an office that feels dull or functions poorly. The way that modern work gets done is changing, and we are working hard to create highly functional and flexible spaces with a positive user experience to meet these new demands. We believe that successful growth strategies will continue to center around spatial solutions that enable people to come together and innovate better.
Segregating Your Spaces
Certain environments should be kept far, far away from your workspaces. These include spaces near or beside restrooms, areas around kitchens or breakrooms and spaces near or surrounding elevators or stairs. If possible, a workspace should feel more secluded to allow for greater focus. As a general rule, keep your workspaces away from crowded spaces. Nobody likes the idea of listening to a refrigerator open and close all day.
Create Places for Quiet
Offering a room specifically designed for quiet, uninterrupted work can improve focus and decrease distraction. When employees know a room is off limits for chatting, phone calls, music, eating, etc., those using the space are free to focus without an enclosed, private office. The fact is, not everybody works their best in open environments, so adding rooms for quiet when possible makes a difference.
Keeping a Comfortable Indoor Climate
When setting up areas, temperature considerations cannot be overlooked. Large spaces may be hotter or colder depending on the season, and a ceiling fan (or two) appropriate for the size of the area can help keep employees focused on work and not the climate. Most fans have a switch to change air direction in hot or cold weather, so keep that in mind when the weather changes and have those set correctly.
Adaptability is the Future (And the Present)
Modern designs are increasingly opting for more adaptable elements, such as high-back sofas that can be pulled together, couches that are both comfortable and movable and fully ergonomic chairs with height, arm, back and reclining adjustments. Make sure that employees also have adequate storage.
More Green
Plants not only liven up an office area, but they can also provide health benefits. Choose plants that do well indoors while creating oxygen and are low on allergen lists — skip ones that might have fragrances. Scents can cause headaches, so be mindful when choosing indoor greenery. Steer clear of fake plants. Few people care to sit around staring at plastic leaves all day!
About Open Offices
Open offices are very popular– but don't get caught up in a floor plan that doesn't work for your culture. Opting for a more flexible floor plan may help keep your employees (and your bottom line) happy.
By incorporating these simple, yet powerful concepts covered in this article, you can stay nimble and optimize your work environments for the future.