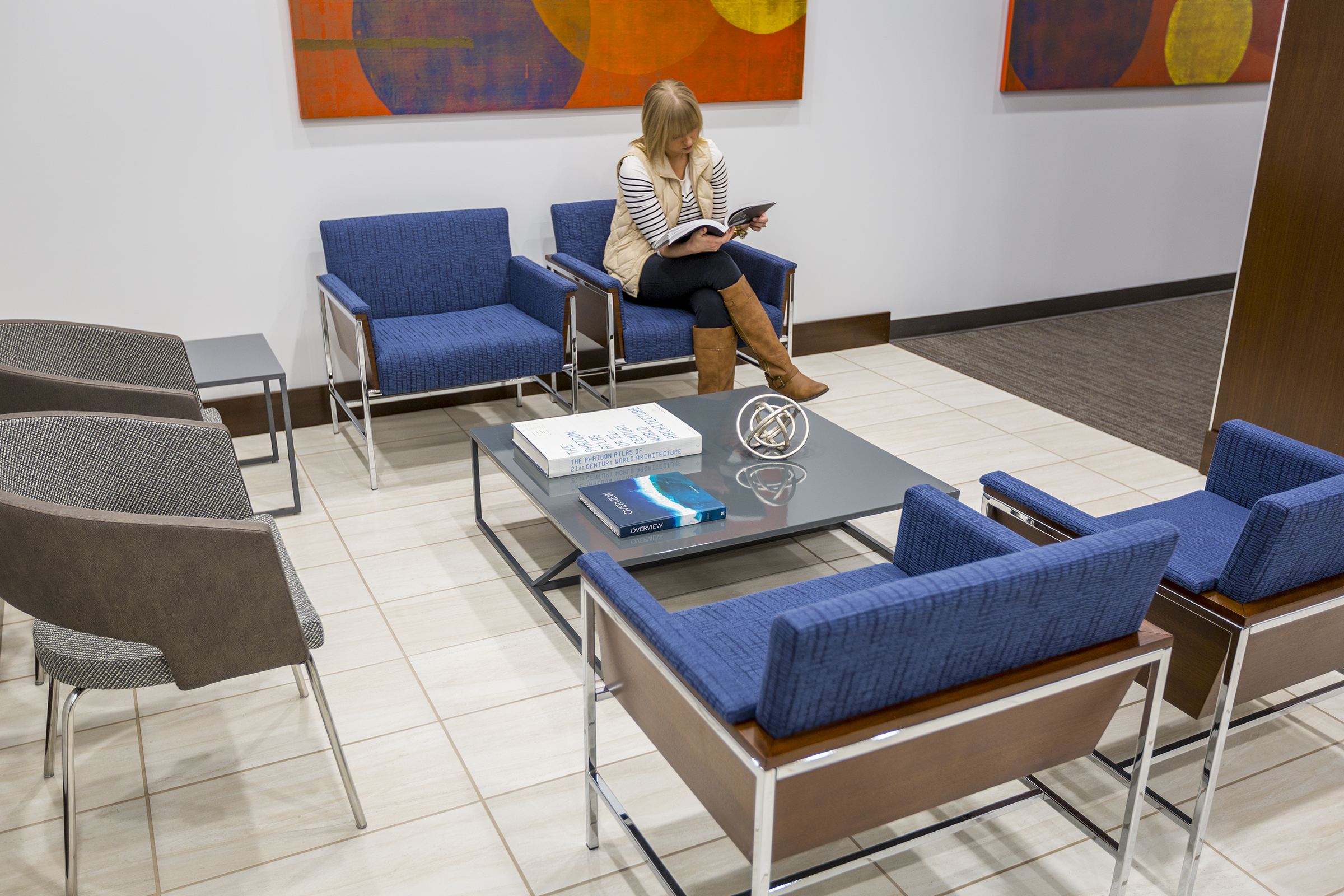 In the past, office lobbies were made to be grand and lavish, with the goal of impressing those who walked through the doors. By making use of materials such as bronze and marble, these spaces felt luxurious and sought to attract people with their grandiosity. These days, the purpose of the lobby is changing, and designers are asked to adapt commercial entryways with new and exciting designs.
First Impressions are Important – Make Yours Count.
Your building's exterior, entrance and lobby make up the entirety of your building's first impression. However, rather than seeking to wow people with luxury, businesses are more interested in spaces that humanize and connect with people. Many building owners are replacing dark and outdated finishes with lighter, more natural modern finishes and materials to welcome visitors. On building tours, it is vital that leaders can vividly imagine their workforce in the space on a daily basis. Also, making the right design decisions for their lobby is essential. With many office buildings experiencing vacancies due to COVID, the opportunities for projects of this kind will only grow. We are seeing many opportunities to transform older commercial lobbies into forward-looking, modern productivity hubs!
Better Lobbies Lead to Better Recruitment
Recruitment is another angle to consider. Companies today are in fierce competition to recruit and retain top talent. Walking a prospective hire through a sea of cubicles doesn't exactly create a positive first impression. It can be just as uninspiring for current employees. Providing compelling, inspiring and collaborative work environments can be one of the most effective tools a company can use to attract and hold onto talent! This starts from the moment you walk in. We aren't talking about the generic amenities of the past. These spaces are exciting, vibrant and cool. They feel a bit more like a hotel lobby than an office lobby, and they are not just functional but designed as places people seek as destinations.
Make Your Statement
It has been said that visitors form their opinions about a company within the first few seconds of arriving. It is especially true for a customer-facing business. The impression your reception area or lobby gives is so vitally important! It will set the stage for all future interactions with your company. Your lobby or reception area is the public face of your company. For this reason, you must ensure guests feel comfortable and welcomed. Looking beyond this, your lobby also has an opportunity to reflect your company's brand. A distinct art piece can be the perfect center of attention against a contrasting backdrop to create the "wow" factor. Digital wall art, wall graphics, innovative lighting and more can all be powerful tools in creating the right look and feel for your brand in the lobby. By choosing which emotions you want to evoke in your visitors through design, you will stand out from your competition. An effective lobby design will reflect who you are as a company and give your visitors a truly memorable experience.