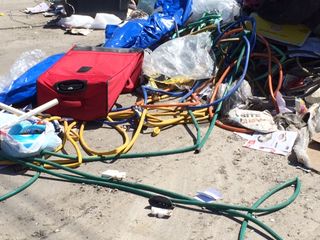 Remember when the truck came down the street and put items from your green recycling tote into the correct compartment on the truck? That's called "curb sort recycling." And if you had something that was not recyclable they would leave it in your tote with a note. That's how we learned what was acceptable – even with a recycle symbol the item ends up being recycled only if there is a market for it.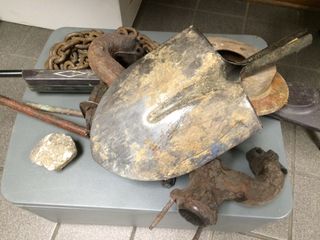 Then came "residential single stream," which means you throw whatever into your recycle container and it gets sorted somewhere else. It's easier for residents, but we still have to be mindful. My friend Todd Mendenhall is one of the owners at Mid America Recycling. That's where all the stuff we put in our containers goes. Todd says, "Residential single stream recycling is like a truck dumping a pile of thousands of omelets and picking out the egg, bacon, green pepper, onion and chives and sorting them into their own pile." Mendenhall mentioned residents still need to be conscientious when recycling.
Don't put plastic bags in your recycle container. First, they are not recyclable. Second, they get all tangled in the sorting machinery and require the line to be shut down to remove the bags. PLASTIC BAGS ARE TRASH.
Don't put trash in your container. On my tour I saw suitcases, hoses and car wheels.
While a shovel and chain are made of steel, no recycler wants shovels. Pop cans, glass bottles, plastic bottles and paper are mostly what they want.
THE BEST THING I LEARNED IS I DON'T HAVE TO WASH OUT MY TOMATO PASTE CAN UNTIL IT IS SPOTLESS!!!
Let me know if you have any recycle tips. Email me at smith.r@cmba-rebuild.flywheelsites.com