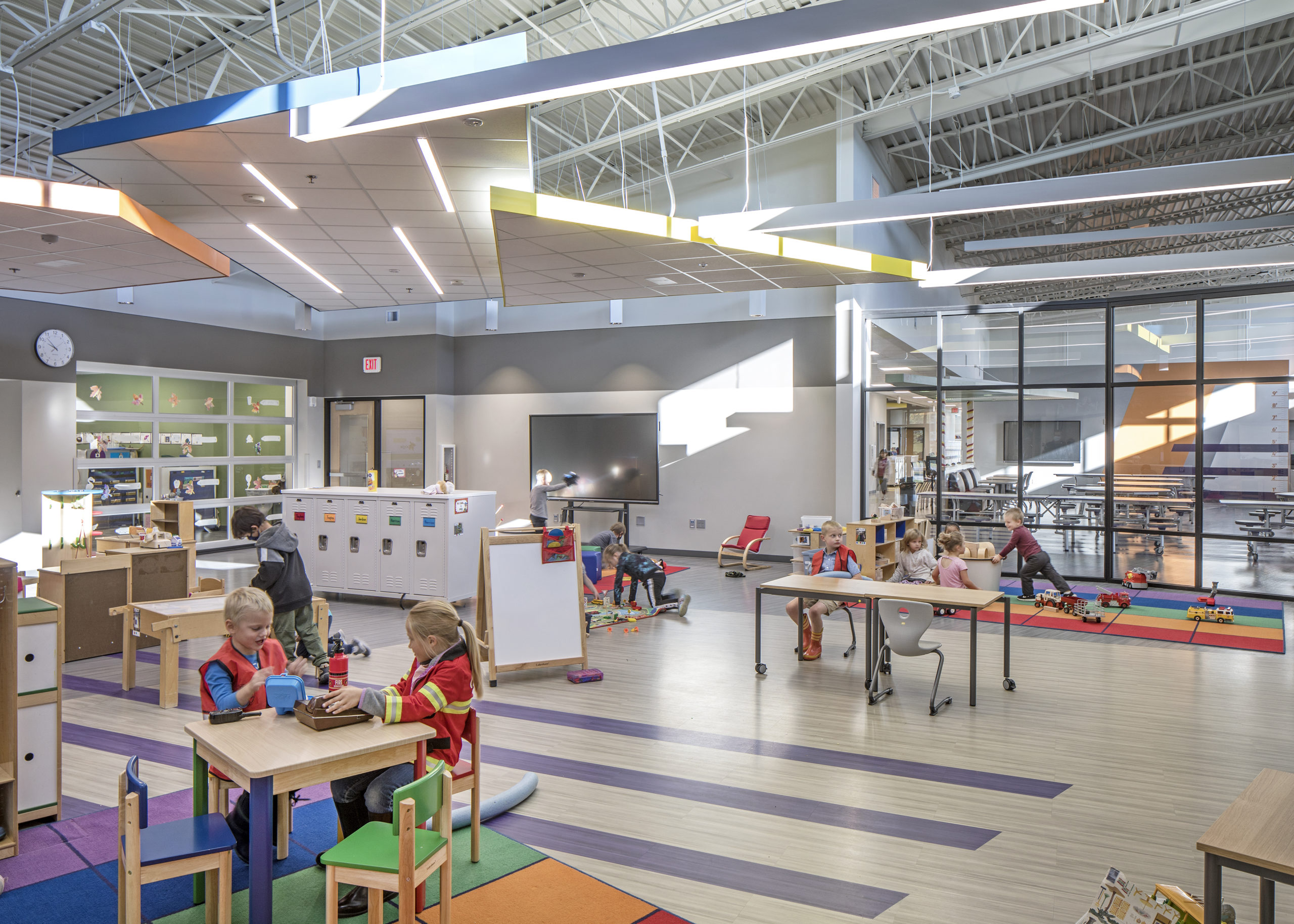 School should not be boring - it should inspire curiosity, creativity and innovation. It is important that the school building itself facilitates that aim fully. Yet, all too often school buildings are boring, drab, lifeless spaces – leaving students with the wrong impression of what "school" is really all about. This is especially true of older facilities. Thankfully, this trend is changing quickly. Modern schools are beginning to see the value in replacing traditional "one-size-fits-all" classrooms with spaces that are dynamic, fun, and exciting! With that in mind, here are some actionable tips from CMBA for creating more exciting learning spaces in your school.
Encouraging Creativity with Project-Based Learning Spaces
Project-based learning spaces can be some of the most fun environments within a school. Our advice? Design these spaces in a way that gives students the maximum freedom to express their creativity. Rather than a 'classroom,' it may be more helpful to think of these environments as "tinkering spaces". If done well, these areas are tons of fun for students and will encourage the use of learning materials and hands-on experimentation in a way that leads to significantly higher levels of student engagement. Classrooms in which project-based learning is taking the place of rote memorization need spaces where students can sketch, build, make, and prototype. When planning these spaces, remember that they aren't like typical classrooms and will require clear surfaces and centers where students can access all kinds of materials – not just typical school supplies.
Active Learning Spaces Fuel Engagement
Studies show that students retain up to 80 percent more information through active learning! Designing this type of environment includes functional outdoor classrooms, the use of technology to support, but not drive, education, and maker spaces. You must also ensure transparency and support connectivity. This may actually be the single most important pattern in creating a school culture of openness, excitement, belonging and accountability. Environments that facilitate high amounts of transparency and connection allow the work of the students to be put "on display" and offer more exposure to informal learning opportunities.
Color and Branding
Never underestimate the role that color plays in your school! The creative use of color presents the opportunity to completely change the way a space is perceived. On the other hand, a lack of color can create a space that feels boring and uninspired. Think about using color in a way that highlights areas while supporting desired learning moods. Similarly, branding and graphics can spark a transformative culture in your schools and make environments feel less generic. Graphics are foundational to displaying who you are to your students, giving you the chance to share your culture, history, vision and values. Incorporate graphics thoughtfully, and they'll create a more personalized, stimulating experience that inspires learning and innovation. By using bold graphics and large fonts, we are able to mentally and emotionally connect students to a space while elevating the wow-factor of our learning environments. School should always be a bright spot for our hearts, minds and our thinking. Thoughtful design allows us to rethink the critical job that space performs in providing successful student experiences for the next stage of education.