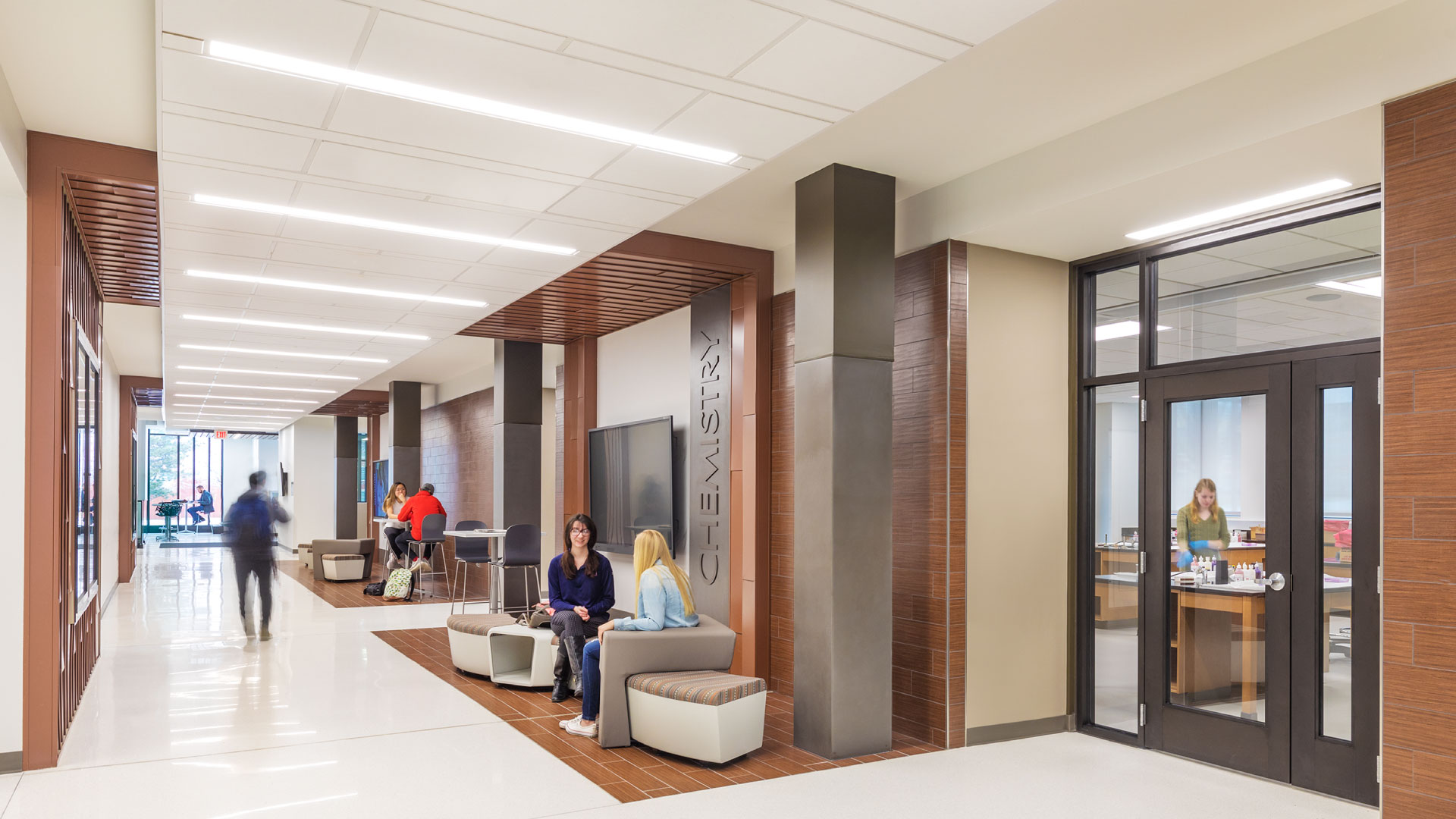 The competition for attracting college students is more competitive than ever before. To attract future generations, adaptive academic institutions are seeking to create environments that place students' needs first. At CMBA, we've had the opportunity to work closely with many highly regarded colleges and universities and noticed trends along the way. Specifically, we observed and implemented specific design elements that attract and inspire prospective and returning students.
"Wow Factor" is Everything
You never get a second chance to make a first impression, and this certainly rings true for universities. To students touring multiple campuses in-person and/or remotely, distinctively designed spaces prove to impress and are memorable. A distinct space design creates a warm, welcoming atmosphere with a "wow" factor.
Design That Inspires Collaboration
Learning is enhanced by conversations that inform, challenge and build upon ideas. Some of the most meaningful experiences for students are interactions with peers and faculty, many of which lead to the development of invaluable interpersonal skills. Unquestionably, academic spaces serve students best when they provide places where people can engage with one another.
A design element that can be employed to achieve this is an often overlooked space: corridors. If the goal is to create an environment where collaboration among students, faculty and leaders can interact, corridors should be designed wider than usual – with walls that include technology. To fuel these corridor spaces, students must have ample access to audio-visual components, outlets and other accessories to do work from their laptops.
Flexibility Gets Attention
To prep students for their careers now, classroom spaces must adapt to changing needs in real-time. Modern classrooms are flexible environments – allowing for effortless reconfiguration to support student activities.
It is possible to design classrooms in such a way as to allow for quick adaptation between traditional and casual learning environments with movable furnishings. Additionally, movable walls and raised access flooring are powerful, forward-looking solutions to support future spatial needs.
Desirable Spaces for Work and Study
For students who enjoy working in the midst of activity, café spaces provide the ideal environment. For those who demand minimal distraction for maximum productivity, semi-private study carrels with partial walls achieve this beautifully. Workstations can even provide standing desks or tables that allow students to optimize the environment to their needs and desires.
Space to Relax
According to Scientific American: "Downtime is an opportunity for the brain to make sense of what it has recently learned, to surface fundamental unresolved tensions in our lives and to swivel its powers of reflection away from the external world toward itself."
To be productive and help foster positive mental health, students desire places for relaxation and refreshment. Cafes, lounges and patios offer areas for students to take a break and relax, as well as spaces for meeting with friends.
By incorporating the elements discussed in this post, attracting new students to your campus can become more than a mere possibility. Interested in learning more about our thoughts and approach to higher education architecture and design? Click here!