Care provided in clinics and outpatient facilities – instead of the hospital – is continuing to rise as is chronic conditions needing early diagnosis and continual monitoring to treat successfully. The future of healthcare is available now: 1. A multi-discipline care team (led by a primary MD, nurse practitioner or internal medicine MD) made up of 6-15 specialists including pharmacist, rehab, dietician, behavioral and endocrinologist, among others makes up the typical care team. This multi-person team requires a larger exam room and co-locating specialist in the care teams, or integrated practice and patient moving from provider to specialist offices in different area requiring more steps. The optimal clinic layout has two-sided exam rooms with the integrated team in the core coming in their own door. 2. Relationships between providers and patients plus home care givers (family or close friend) is essential for treatment and faster recovery. The exam room must provide space for these care givers so they are able to hear and see what is discussed. A large LCD display further aids in clarity and the ability to provide written instructions and summary of information discussed by providers.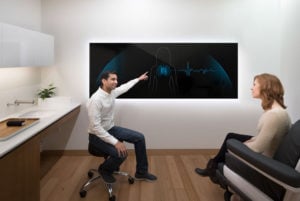 Photo:www.nordicintegrativemedicine.com

3. Immediate results (within a day) are essential for early diagnosis and the ability to provide treatment options and better chance of recovery. This faster turnaround of results requires better communication tools between provider and patient. The future is here now – providers and clinics providing online access to lab results, scheduling, emails to doctors, and soon complete medical records. The VA has Blue Button, and CHI has My Chart. 4. The Internet of Things (IoT), where we have multiple devices monitoring our health and wellness, will have the ability to link to doctors and should provide the user with all the same information. DNA sequencing is now available so that treatments that work with individual's genetic markers can be prescribed for improved outcomes. Researchers have found that certain illnesses and chronic diseases have 6-8 treatment options based on specific genetic sequence.