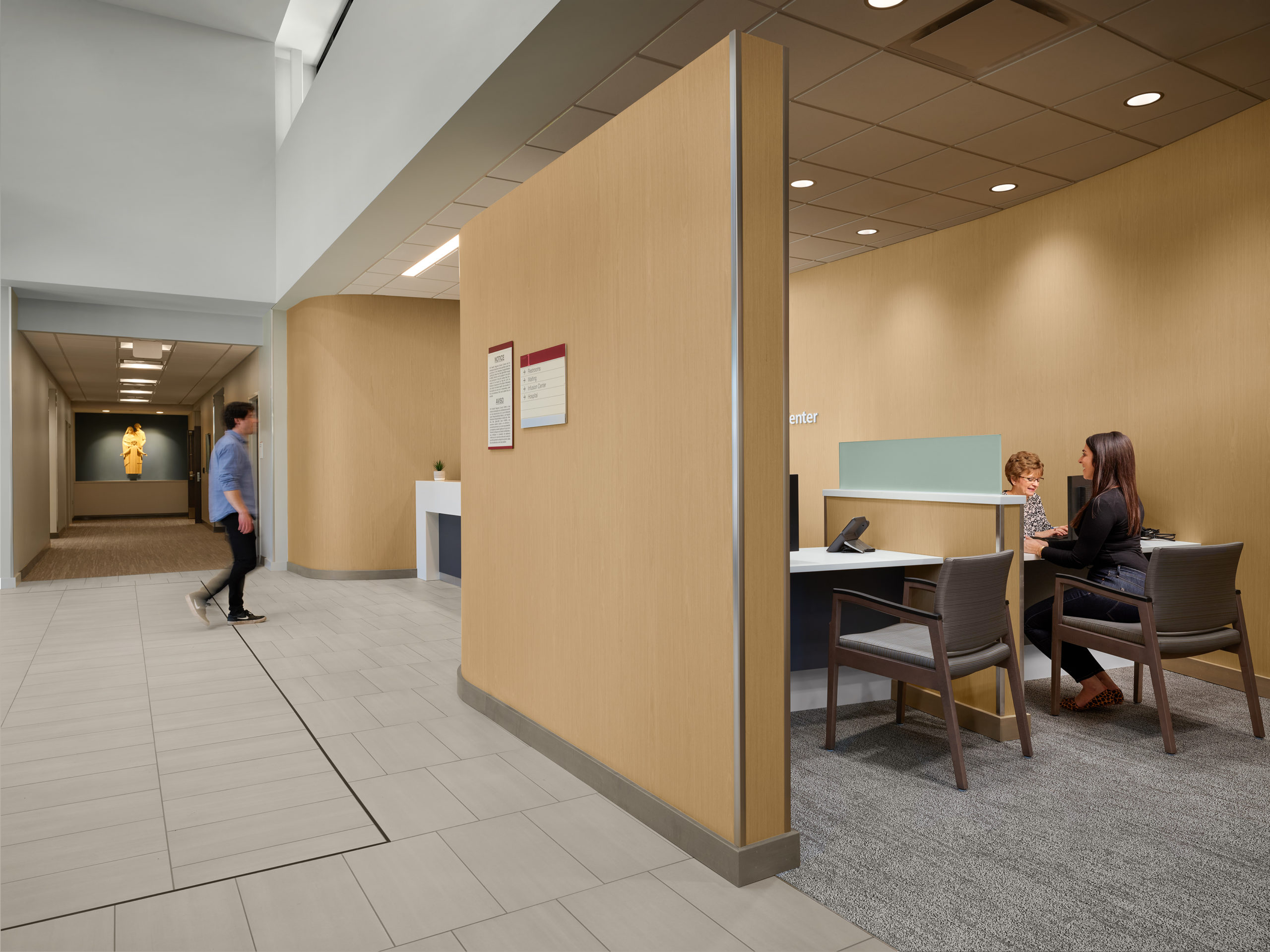 It is difficult to overstate just how powerful an effect privacy has on patient care delivery, patient well-being, and cost of operation. Seeing this, it is no surprise that healthcare organizations take privacy very seriously. CMBA understands this and strives to create spaces built to match a much higher standard. Here are some key design best practices we use to achieve greater provider and patient satisfaction...
Understanding the Challenge of Privacy
Respecting patient privacy through design is fundamental. This includes assuring patient confidentiality, as it is regarded as an essential obligation of healthcare providers and institutions. Many governmental standards and regulations of privacy are satisfied with some minimum effort. However, perpetuating minimum design requirements has become obsolete for 21st-century medical facilities. After all, patients and their families have more choices than ever, with an expansive and increasingly competitive marketplace. Every feature and amenity your facility provides truly matters. A patient's right to their privacy is an unmistakable necessity that you cannot allow to be overshadowed by trendier features in healthcare design. Designing for privacy means to simultaneously design for trust, the foundation for every patient/provider relationship. It could even be argued that building trust between the patient and healer, or the patient and healing environment is essential for healing itself. When patients feel their privacy is valued, they begin to trust their provider. Once patients and caregivers build trust, the trustworthiness of their environment becomes essential to the patient's overall well-being.
Architectural Privacy and Patient Visibility
Designing for privacy is actually a very physical concept. Practically speaking, architectural privacy is the visual and acoustic seclusion provided by an environment. Are your spaces being designed to prevent access to information? Can your appointments be easily administered without risking someone overhearing sensitive medical details? If you answered "no" to these questions, there may be some fundamental privacy design errors on display. A few solutions to consider include:
Fully private in-patient rooms
Operable blinds
Zoning patient rooms for different activities
Distinctly different paths of travel for patients versus the public
Acoustic separation
Privacy from a visual perspective can also serve as a valuable function of the spatial arrangements of your spaces. Often, privacy and visibility are viewed as similar in healthcare, when they actually serve different functions altogether. Patient acuity determines the importance of visibility versus privacy for patients. The higher the level of acuity, the more the patient needs observation by clinicians. In healthcare spaces with lower staffing levels, it's important that the practice not be too spread out. Instead, the space needs to be easily navigated so patients can be properly tended to without compromising privacy in any way. In less acute settings, the intentional combination of both acoustic and visual privacy for both patients and family become primary. Since the patients and family might not need heightened levels of clinician attendance, it's important to give them a private space, whether for waiting or treatment. While this information only scratches the surface of what it takes to fully balance healthcare privacy and patient accessibility, we hope this helps you get moving in the right direction!